Awards
The prestigious Aurora Award was initiated by CRANAplus to recognise individuals who have made an outstanding contribution to remote health. These individuals provide inspiration, leadership and energy to make things happen.. 2017 Nominations are Now Closed
The CRANAplus Awards recognise remote and isolated health professionals who have made a significant contribution improving health outcomes or have made a special contribution to their profession.2017 Nominations are Now Closed.
2016 Award Winners
Aurora Award: Glenda Lucas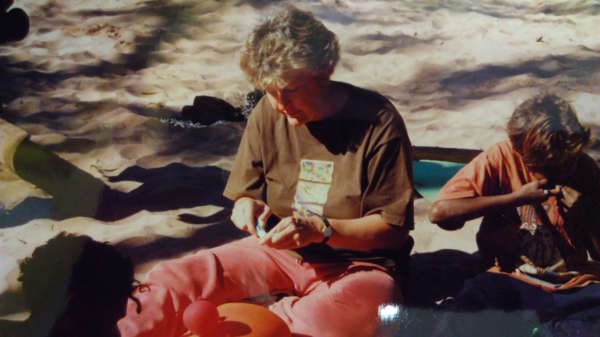 Travelling to Utopia in Central Australia in 1993 for 12 months proved a massive learning curve and introduced our winner to a way of life she came to love. Ignorant of the Central Australian way of life and unaware that people still spoke in Traditional languages she felt she had been propelled to another planet. She moved to Ntaria (Hermannsburg) for 7 years then worked with Batchelor College, Old Timers and Central Australian Aboriginal Congress in Alice Springs, but the urge to return to Ntaria proved too strong and she returned there until August this year when she retired after 21 years in Central Australia.
Her colleagues say of her that she is a true 'quiet achiever'. Working quietly behind the scenes, others often unaware of the work she had been slowly, gently, thoughtfully doing until you realised what has been nipped in the bud, or artfully resolved. Her decades of work in the community meant that she was well known, understood and also knew and understood the community well.
Trusted by the community, people sought her advice knowing she would follow things up as she could, always seeking the most appropriate solution or plan of care for them and their individual situation. Remote nursing is not easy, often challenging, and she held invaluable experience, knowledge and wisdom that allowed her to provide invaluable care to mothers, babies, children and all community members. The support and energy generously given to budding practitioners, visiting health services and researchers was also highly valued; anyone working with children in Ntaria will have heard of her and her work. She was an invaluable asset to the community, and greatly appreciated.
CRANAplus Award Winners
Excellence in Education/or Research in Remote Health: Tobias Speare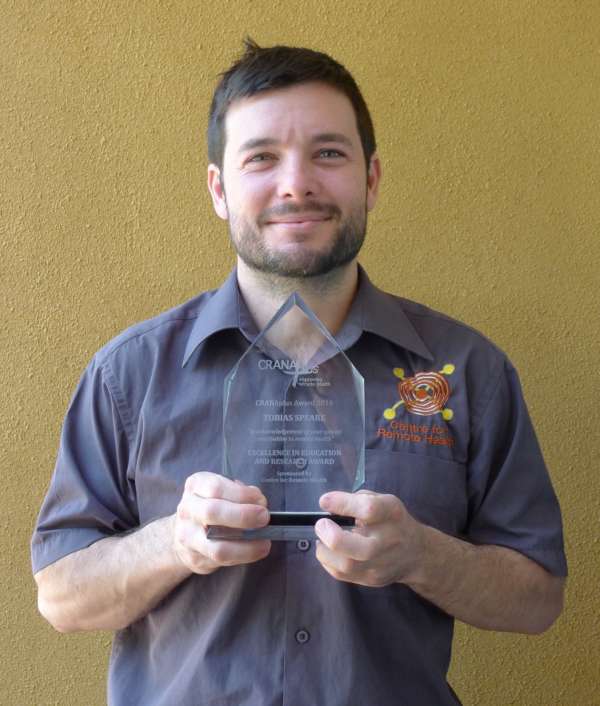 Toby works as a pharmacist academic at the Centre of Remote Health and has a keen interest improving the quality use of medicines through education.
His colleagues believe that one of his major achievements has been the development of an on-line course " Pharmacotherapeutics for Remote Area Nurses". The course is of a very high standard, popular with demand increasing, and is mandatory for RANs working in the Departmental remote clinics in the NT. He strives to improve patient care through the judicious use of medications.
The CRANAplus Excellence in Education/or Research in Remote Health Award is sponsored by Centre for Remote Health
Excellence in Remote Health Practice Award: Rita Appelt
Rita works in Central Australia Primary Health as a relief Outreach Midwife for remote clinics. Rita's background includes remote area nursing, although she now focuses on remote outreach midwifery and women's health. Rita is seen as wonderful resource for remote women but also for the remote midwives and non-midwives, assisting them to navigate the often-complicated journey from conception, pregnancy, birth, through to post natal care. Her peers believe that Rita's contribution is invaluable to the ongoing review and updating of the Remote Primary Health Care Manuals. Rita is a positive role model, and a wonderful exemplar of a remote midwife.
The CRANAplus Excellence in Remote Health Practice Award is sponsored by Mount Isa Centre for Rural and Remote Health, James Cook University
Collaborative Team Award: Cooper Basin
RFDS

Team
The Cooper Basin RFDS Team has been together for the past 10 years delivering daily primary and emergency health care to the remote and isolated Cooper Basin. The team looks after local residents, pastoralists and tourists as well as developing the first remote industrial service in Australia. The stability of the team has ensured a consistent front-line service, fostering a strong therapeutic relationship with all key stakeholders. The RFDS Nursing teams community knowledge and long-term stability ensures the best possible outcomes and constructive collaborative engagement during the Medical Officer visits, to the benefit of the remote population.
The Cooper Basin RFDS Team wish to donate the $500 prize and will donate a further $500 to support a student undergraduate scholarship and placement with the RFDS. They would like the Scholarship to be called the Cooper Basin RFDS Scholarship.
The CRANAplus Collaborative Team Award is sponsored by Bellette
Novice/Encouragement Award: Daphne De Jersey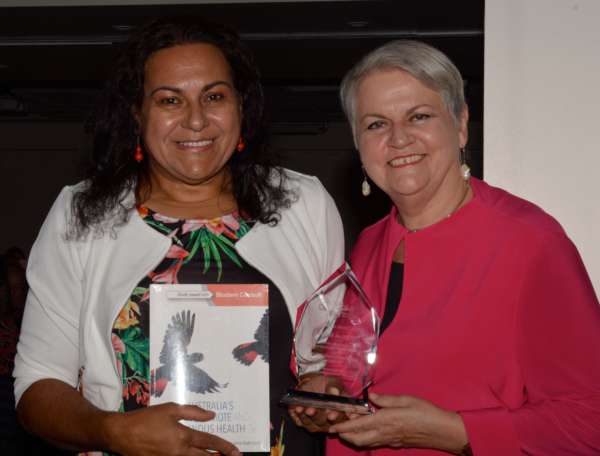 Daphne is a mother of seven children and joined Apunipima Cape York Health council as a trainee health worker. Daphne has completed her Cert 4 in Primary Health Care, upgrading this qualification by including subjects on cannulation and medication awareness.
This year Daphne has self funded to commence her study in the Diploma of advance health worker, she also hopes to go to Darwin to complete QAAMS training for point of care testing for HB1ac testing.
Daphne in her last pregnancy had gestational diabetes and with the knowledge she learnt around nutrition and exercise she has lost weight and has been a role model to other Mapoon community people to change their lifestyle factors, to prevent type 2 diabetes.
Daphne comes from a Mapoon family full of strong artists of which Daphne is also a celebrated artist.
Daphne in her role as Maternal child health worker has established a women's group. This group meets once weekly in the evening to share a meal and to do art. I explained to Daphne that she was doing art therapy, and Daphne said "Maybe,… but Jo this is a way us women can all share our problems if we are doing art it seems easier to talk."
The CRANAplus Outstanding Novice Award is sponsored by Aussie Wide Transport
Excellence in Mentoring Award: Joanne Mahony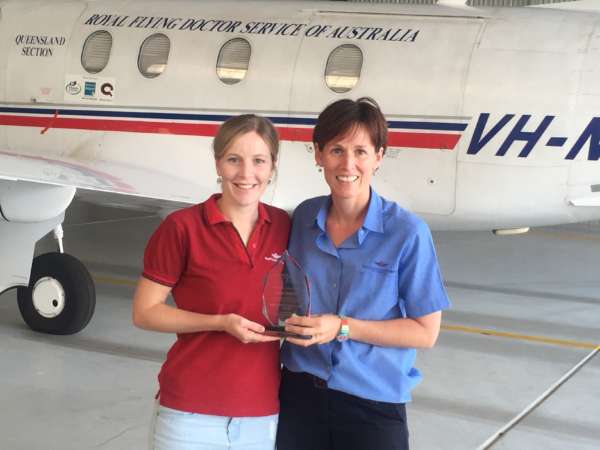 Joanne is a Nurse Practitioner who has been employed for 13 years with the Royal Flying Doctors Service in Charleville, Queensland. Mentoring is not a newly mastered skill of Joanne's as she has mentored many staff from a variety of disciplines over this time, the very low turnover rates of her team is an acknowledgement of her success and support. Her colleagues believe Johann is an exceptional professional role model.
The CRANAplus Excellence in Mentoring Award is sponsored by the Remote Area Health Corps
Past Award Winners
2015
Aurora Award: Sandra McElligott
CRANAplus Awards:
Excellence in Education/or Research in Remote Health: Sally Foxley
Excellence in Remote Health Practice Award: Annette Jones
Collaborative Team Award: Utira Kulintjaku (UK) Team, NPY Women's Council
Novice/Encouragement Award: Benjamin Crough
2014
Aurora Award: Judy Whitehead
CRANAplus Awards:
Excellence in Education/or Research in Remote Health: Annette Olsen
Excellence in Remote Health Practice Award: Dinah Northcott
Collaborative Team Award: Midwifery Group Practice, Central Australia & Apunipima Cape York Health Council's Maternal and Child Health Team
Novice/Encouragement Award: Catherine Jurd
Excellence in Mentoring Award: Jonathon Wright
2013
Aurora Award: Donna Hindmarsh
CRANAplus Awards:
Excellence in Education/or Research in Remote Health: Vicki Gordon
Primary Health Care Champion Award: Yvonne Tan
Excellence in Remote Health Practice Award: Christine Foletti
Collaborative Team Award: Indian Ocean Territories Health Service
Novice/Encouragement Award: Emily Taylor
Excellence in Mentoring Award: Sheryl Alexander
2012
Aurora Award: Sue Kildea & Karen Schnitzerling
CRANAplus Awards:
Excellence in Remote Health Management Award: Lesley Pearson
Primary Health Care Champion Award: Debbie Thompson
Excellence in Remote Health Practice Award: Rebecca Vele
Collaborative Team Award: Frontier Services – Savannah Regional Health Service
Novice/Encouragement Award: Sarah Marsh
2011
Aurora Award: Kary Sachse
CRANAplus Awards:
Excellence in Remote Health Management Award: Monica Frain
Excellence in Mentoring in Remote Health Award: Theo Allan
Primary Health Care Champion Award: Katie Pennington
Excellence in Education and/or Research in Remote Health Award: Julia Stewart
Excellence in Remote Health Practice Award: Debbie Moon
2010
Aurora Award: Isabelle Ellis
CRANAplus Awards:
Clinical Excellence Award: Nazlin Remtula
Excellence in Primary Health Care Award: Sharon Liversey
Excellence in Mentoring Award: Selina Kulitja
Excellence in Remote Health Management: Emma Barritt
2009
Aurora Award: Robyn White
CRANAplus Awards:
Clinical Excellence Award: Doune Hepner
Excellence in Remote Health Management Award: John Wilson
Collaborative Team Award: Torres Strait Outer Islands remote area nurses
Excellence in Primary Health Care Award: Bev Hamerton
Novice/Encouragement Award: Lisa Hall
Excellence in Research and/or Education Award: Sue Lenthall
2008
Aurora Award: Vicki Gordon
WA: Vanessa Page
NT: Sharon Weymouth
SA: Beth Hummerston
QLD: Bev Hamerton
VIC: Caitlin Steiner
2007
Aurora Award: Libby Bowell

NT: Mary Stafford
TAS: Mark McKenna