Immu­ni­sa­tion Education
Nurse Immu­nis­er Approved Pro­grams by Jurisdiction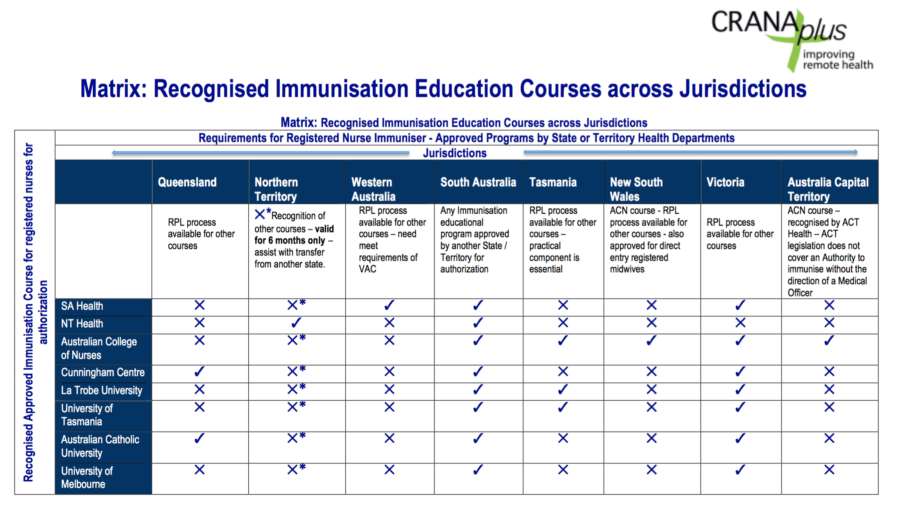 Cur­rent Infor­ma­tion Sep­tem­ber 2016


**Please note, cur­rent­ly The Nation­al Guide­lines for Immu­ni­sa­tion Edu­ca­tion (2001) is under review by the Nation­al Immu­ni­sa­tion Com­mit­tee. It is antic­i­pat­ed the revised ver­sion being Nation­al Immu­ni­sa­tion Edu­ca­tion Frame­work for Health Pro­fes­sion­als will be avail­able in lat­ter part of 2016.
North­ern Ter­ri­to­ry (NT)
The NT endorse sev­er­al cours­es as list­ed in the link below. A com­mu­niqué from Chief Nurse (dat­ed 7/4/15) states that:There is recog­ni­tion for cours­es oth­er than the NT course but they are valid only for six months intend­ed to assist with trans­fer from one state to anoth­er, but not as a course option.
West­ern Aus­tralia (WA)
WA endorse the SA pro­gram as their autho­ri­sa­tion, they also have a process for Recog­ni­tion of Pri­or Learn­ing (RPL) for oth­er cours­es as described in the link. In WA nurs­es are to vac­ci­nate under a med­ical order, unless they meet the require­ments of the Vac­cine Admin­is­tra­tion Code (VAC). Nurs­es employed by the fol­low­ing groups meet the require­ments of the VAC: WA Health / local gov­ern­ment authority/​Abo­rig­i­nal Health Coun­cil of West­ern Aus­tralia or employed by a health ser­vice that is a mem­ber of this Council.
New South Wales (NSW)
NSW leg­is­lates that only the Aus­tralian Col­lege of Nursing(ACN) pro­gram is recog­nised. There is a process for oth­er cours­es to be assessed for RPL through the ACN.
Queens­land (QLD)
The Cun­ning­ham Cen­tre has an approved course and an RPL process is avail­able for oth­er cours­es. Oth­er infor­ma­tion for Queens­land is avail­able through the Pub­lic Health Units.
Vic­to­ria (VIC)
This link pro­vides a com­pre­hen­sive descrip­tion of require­ments includ­ing a list of approved courses.
Tas­ma­nia (TAS)
DHHS Tas­ma­nia Gov­ern­ment — Immu­ni­sa­tion
DHHS Tas­man­ian Gov­ern­ment — Vac­ci­na­tion Pro­gram Guide­lines
UTAS course and Latrobe are approved / endorsed, oth­er cours­es may be eli­gi­ble for RPL, oth­ers may apply but a prac­ti­cal com­po­nent is essential.
South Aus­tralia (SA)
Infor­ma­tion on require­ments and approved course.