Immunisation Education
Nurse Immuniser Approved Programs by Jurisdiction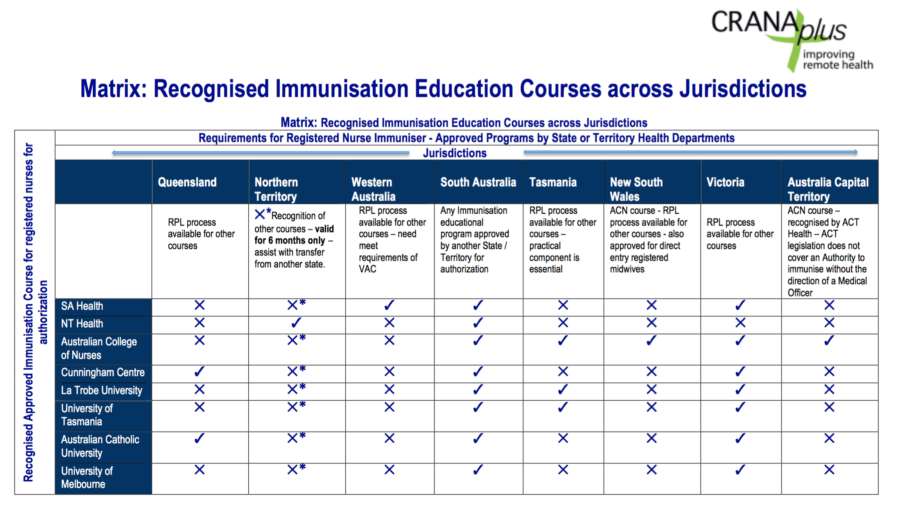 Current Information September 2016


**Please note, currently The National Guidelines for Immunisation Education (2001) is under review by the National Immunisation Committee. It is anticipated the revised version being National Immunisation Education Framework for Health Professionals will be available in latter part of 2016.
Northern Territory (NT)
The NT endorse several courses as listed in the link below. A communiqué from Chief Nurse (dated 7/4/15) states that:There is recognition for courses other than the NT course but they are valid only for six months intended to assist with transfer from one state to another, but not as a course option.
Western Australia (WA)
WA endorse the SA program as their authorisation, they also have a process for Recognition of Prior Learning (RPL) for other courses as described in the link. In WA nurses are to vaccinate under a medical order, unless they meet the requirements of the Vaccine Administration Code (VAC). Nurses employed by the following groups meet the requirements of the VAC: WA Health / local government authority/ Aboriginal Health Council of Western Australia or employed by a health service that is a member of this Council.
New South Wales (NSW)
NSW legislates that only the Australian College of Nursing(ACN) program is recognised. There is a process for other courses to be assessed for RPL through the ACN.
Queensland (QLD)
The Cunningham Centre has an approved course and an RPL process is available for other courses. Other information for Queensland is available through the Public Health Units.
Victoria (VIC)
This link provides a comprehensive description of requirements including a list of approved courses.
Tasmania (TAS)
DHHS Tasmania Government - Immunisation
DHHS Tasmanian Government - Vaccination Program Guidelines
UTAS course and Latrobe are approved / endorsed, other courses may be eligible for RPL, others may apply but a practical component is essential.
South Australia (SA)
Information on requirements and approved course.