Employment
Browse through the employment listings below to discover your dream rural or remote health care job
Clinical Nurse
Posted: 23 Sep 2022
Location: Pilbara WA
Are you a motivated and experienced Emergency Nurse, who is looking to join a diverse Hospital in a Rural and Remote Setting, while still working in a Regional Resource Centre?

An exciting opportunity is available at Hedland Health Campus for a Clinical Nurse position.
Salary: RN Lev­el 2 $93,171 — $98,742 p.a. pro rata
Loca­tion: South Hedland
Unit/​Division: Pil­bara -> Emer­gency Depart­ment — High Depen­den­cy Unit
Work Type: Per­ma­nent — Part Time, Per­ma­nent — Full Time, Fixed Term — Part Time, Fixed Term — Full Time
Posi­tion No: 00300274
Clos­ing Date: 2022-10-12 4:00 PM (YYYY-MM-DD)
Our Clin­i­cal Nurse Man­ag­er, Jac­in­ta is help­ing us build our Emer­gency Depart­ment staffing. Work­ing as a CNM in a Lev­el 1 Trau­ma Cen­tre in Cork, Ire­land since 2005, Jac­in­ta brings a wealth of expe­ri­ence that she is look­ing for­ward to shar­ing and work­ing with the Hed­land team.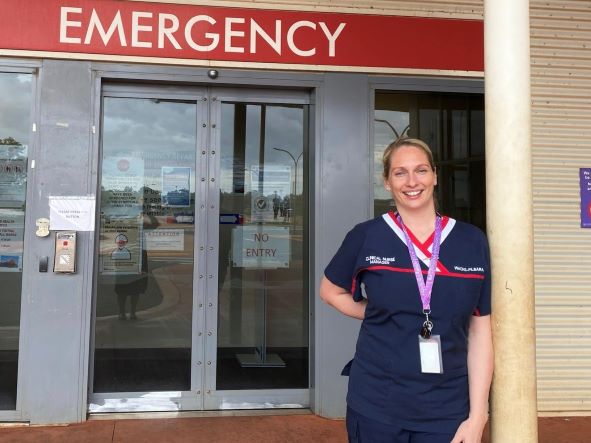 This is for Per­ma­nent and Fixed Term appoint­ments at var­i­ous hours per fortnight.
The oppor­tu­ni­ty to expand your lead­er­ship skills and devel­op a diverse team cul­ture that brings job satisfaction.
Oppor­tu­ni­ty to work, devel­op and build rela­tion­ships with the local com­mu­ni­ties too enables bet­ter health outcomes.
Live in a beau­ti­ful loca­tion that is

15

min­utes from stun­ning beach­es; close enough to city facil­i­ties but also with some of the most pic­turesque places in

WA

to explore at your back yard.
Posi­tion Pro­file: We are seek­ing appli­ca­tions from can­di­dates gen­uine­ly inter­est­ed in tack­ling the chal­lenges unique to the region to be a part of a team that is mak­ing real change in the Pilbara.
As a Clin­i­cal Nurse at HHC, you will be pro­vid­ing clin­i­cal exper­tise and lead­er­ship in the deliv­ery of care to the Hed­land com­mu­ni­ty and the sur­round­ing Pil­bara region. This posi­tion plays a key role in being able to pro­vide lead­er­ship, direc­tion and sup­port to the staff at the Hos­pi­tal. This posi­tion is also piv­otal to be able to devel­op spe­cif­ic edu­ca­tion, sup­port and deliv­ery care meth­ods that are suit­able for the clients and staff of the local area.
To be suc­cess­ful, you will
Be an expert in deliv­er­ing care in an Emer­gency Care.
Be pas­sion­ate about the care and deliv­ery mod­els to those in rur­al areas
Com­mu­ni­cate effec­tive­ly with all lev­els of the organ­i­sa­tion, as well as exter­nal stakeholders
Be will­ing to build, grow and devel­op a team cul­ture for effec­tive care to patients and fam­i­ly in a rur­al area.
Selec­tion Cri­te­ria: Please see the attached Job Descrip­tion Form.
Employ­ee Ben­e­fits: In addi­tion to the great salary our employ­ees enjoy an amaz­ing range of ben­e­fits which may include (in line with oper­a­tional requirements):
Dis­trict Allowance (sub­ject to eligibility)
Sub­sidised accom­mo­da­tion (sub­ject to eligibility)
Five (

5

) weeks paid leave
Air-con­di­tion­ing allowance (sub­ject to eligibility)
Gen­er­ous annu­al trav­el subsidy
Access to gen­er­ous salary pack­ag­ing arrangements
Flex­i­ble work­ing arrangements
Access to Pro­fes­sion­al Development
For Fur­ther Job-Relat­ed Infor­ma­tion: We encour­age you to con­tact Jac­in­ta Car­roll, CNM of the emer­gency depart­ment at Hed­land Health Cam­pus. 08 9174 1438.
Appli­ca­tion Instruc­tions: Appli­cants are request­ed to apply online.
It is prefer­able for at least one of your ref­er­ees to be a cur­rent super­vi­sor or manager.
Appli­cants are advised pro­vide a detailed cur­ricu­lum vitae which sum­maries your expe­ri­ence and how you can meet the posi­tion require­ments fol­low­ing the selec­tion criteria.
Demon­strat­ed advanced clin­i­cal knowl­edge and deliv­ery of evi­dence-based nurs­ing care with­in the crit­i­cal care setting.
Excel­lent inter­per­son­al skills, and writ­ten and ver­bal com­mu­ni­ca­tion skills
Well-devel­oped plan­ning, organ­i­sa­tion­al and prob­lem solv­ing skills with the abil­i­ty to work with min­i­mal supervision.
These doc­u­ments should be com­plete and ready to attach pri­or to apply­ing online. Please ensure you allow suf­fi­cient time to com­plete the online appli­ca­tion process as you will be required to answer var­i­ous ques­tions and attach your documentation.
If you expe­ri­ence dif­fi­cul­ties while apply­ing online, please con­tact Employ­ee Ser­vices on 13 44 77 for imme­di­ate assis­tance dur­ing busi­ness hours.
Lodge­ment is sys­tem gen­er­at­ed. Any sub­mis­sions on, or after, 4:00pm will not be accept­ed.

LATE OR EMAIL APPLI­CA­TIONS WILL NOT BE CONSIDERED.
Whilst this selec­tion process will ini­tial­ly be used to fill the above vacan­cy, it may also be used to fill oth­er ​"sim­i­lar" vacan­cies through­out the health ser­vice. In addi­tion to this, should the suc­cess­ful appli­cant decline or vacate the adver­tised vacan­cy, then the next most suit­able appli­cant may also be select­ed from this process. Both of these options remain valid for a peri­od of six (6) months from when the autho­rised del­e­gate endors­es the recruit­ment decision
Eli­gi­bil­i­ty to Apply: Aus­tralian cit­i­zen­ship or per­ma­nent res­i­den­cy is an essen­tial require­ment for appli­cants to be con­sid­ered for per­ma­nent posi­tions in the pub­lic sec­tor.

All WA health sys­tem employ­ees are required to be ful­ly vac­ci­nat­ed against COVID-19 (includ­ing the boost­er vac­ci­na­tion when they are eli­gi­ble) in order to access health care facil­i­ties, pur­suant to the Health Work­er (Restric­tions on Access) Direc­tions (HWD) (or its replace­ment), COVID-19 Manda­to­ry Vac­ci­na­tion and Vac­ci­na­tion Pro­gram Pol­i­cy, and the Boost­er Vac­ci­na­tion (Restric­tion on Access) Direc­tions (no 2) (or its replace­ment) (BVD), unless the employ­ee is exempt pur­suant to the HWD and/​or BVD.
WA Health engages staff in posi­tions of trust and respon­si­bil­i­ty. WA Health poli­cies require appli­cants to under­take crim­i­nal records screen­ing and integri­ty check­ing as part of the appoint­ment process. Ref­er­ees may also be asked to com­ment on an applicant's integri­ty and past demon­stra­tion of eth­i­cal behaviour.
This vacan­cy is sub­ject to a West­ern Aus­tralian Work­ing With Chil­dren (WWC) Check. For fur­ther infor­ma­tion please refer to the WWC web­site at: https://workingwithchildren.wa…
Please note this recruit­ment process requires com­ple­tion of sat­is­fac­to­ry Pre-Employ­ment Health Assess­ment (PEHA). Any offer of employ­ment with WA Coun­try Health Ser­vice (WACHS) is con­di­tion­al on sat­is­fac­to­ry PEHA to ensure you are able to per­form the inher­ent require­ments of the posi­tion. An unsat­is­fac­to­ry PEHA will result in the offer of employ­ment being with­drawn. Please see the attached WACHS PEHA Pol­i­cy for fur­ther information.
WA Health is com­mit­ted to grow­ing the Abo­rig­i­nal work­force as a part of WA Health's Abo­rig­i­nal Work­force Pol­i­cy. As a mea­sure to achieve equal­i­ty, Sec­tion 51 of the Equal Oppor­tu­ni­ty Act 1984 applies to this posi­tion. Abo­rig­i­nal peo­ple are encour­aged to apply.
For full infor­ma­tion on Appli­ca­tion process and rel­e­vant attach­ments please go to ;
https://​search​.jobs​.wa​.gov​.au/…
APPLI­CA­TION CLOSE 12/10/2022