CRANAplus Mag­a­zine
The CRANAplus Mag­a­zine is pub­lished on a quar­ter­ly basis and dis­trib­uted each March, June, Sep­tem­ber and December.
We wel­come your unique sto­ries and pho­tos so please sub­mit an enquiry here for more details and check out the vast array of sto­ries from your fel­low Remote Health Practitioners.

Sub­scribe below to receive a hard copy ver­sion each quar­ter (also includ­ed in annu­al Mem­ber­ships) or down­load the PDFs for free.
---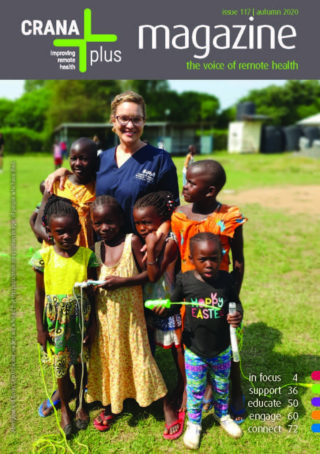 March Issue #
117

Autumn Edi­tion

2020

The CRANAplus Magazine is published on a quarterly basis and distributed each March, June, September and December.

View Online
2020 Magazines
2019 Magazines
2018 Magazines
2017 Magazines
2016 Magazines
2015 Magazines
2014 Magazines
2013 Magazines
2012 Magazines
2011 Magazines
2010 Magazines